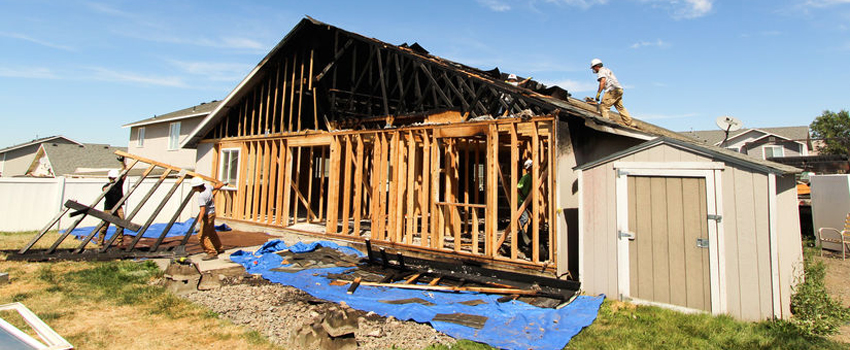 If your home or business has experienced fire damage and needs to be cleaned up and restored, look no further than Floodsmen Disaster Cleanup in Davis County Utah. We are available 24 hours a day, 7 days a week, 365 days a year. We work with your insurance company to simplify the claims process. If your loss is less than your deductible or you are paying for the restoration out of your own pocket, we will do our best to provide you the lowest cost repair. Our licensed and bonded construction and restoration professionals are a team of talented and skilled specialists with dozens of years of experience. We are prepared to tackle any fire and smoke damage restoration job thrown at us. We care about our customers and it is important to us that your project be completed and your home restored to the condition that existed before the fire. With us on the job, our customers are sure to get the results they hoped for. We've made it our mission to alleviate much of the stress that follows in the aftermath of a fire. If you use our fire damage restoration services, you'll get the best service from fire damage restoration specialists that truly care about helping you.
At Floodsmen Disaster Cleanup, getting the job done right is important to us because we want you to be able to live in your home or work in your building without the lingering effects of fire damage. Everything we do we strive to do well. It is this effort and dedication that has gotten us accredited by the Better Business Bureau, customer recognition in the form of Google and Facebook five stars reviews, and certified by the Institute of Inspection Cleaning and Restoration Certification, (IICRC). The IICRC sets standards and guidelines of cleaning, inspection, and restoration for the industry. Having this certification shows that we make every effort to follow the necessary guidelines and use the proper procedures in every project we take on.
No two fires are the same and neither are the projects we perform to restore the areas of fire damage. We follow a standards based approach while tailoring every project to our customers and their individual needs.
Stage 1: This step of our restoration service consists of the initial response. This includes our inspection of the damage and the development of a plan of action.
Stage 2: Once we have developed a plan of action with you, we begin the cleanup process. In this phase, we will clean up any soot, smoke, water, and other things left by the fire and the efforts made to put it out. We are extremely detail-oriented and thoroughly clean your home or business in this phase. Should any water be present, we use the best technology to detect and remove moisture. We fully clean and sanitize the affected areas using only the appropriate chemicals.
Stage 3: In this step, we deploy high tech driers and other drying(?) equipment. This step is important because improper drying could lead to mold growth. We want to avoid mold as it can cause building material damage and serious health problems. To ensure that your home or business is a safe place to be, we'll quickly dry out the building and prepare for restoration.
Stage 4: After we have dried the affected areas, we get to work restoring the building. We'll do whatever it takes to restore the area to its former condition so that it can be utilized in the same capacity as it was prior to the fire.
Stage 5: This is the final cleaning. In this step, we'll ensure that we've removed every trace of fire damage, construction refuse, and perfectly restored your home or business.
When you use Floodsmen Disaster Cleanup, we will communicate with you every step of the way. We want you to be satisfied with the results. We'll keep you updated throughout the entire process so that you know what's going on and can ask questions as they arise.
If your home or business has recently fallen victim to a fire and you need it restored, be sure to give Floodsmen Disaster Cleanup in Davis County, Utah a call. We'll be there in no time to rid the area of any traces of fire.


home

utah

commercial

residential

affordable

reviews

top

best

near me

local