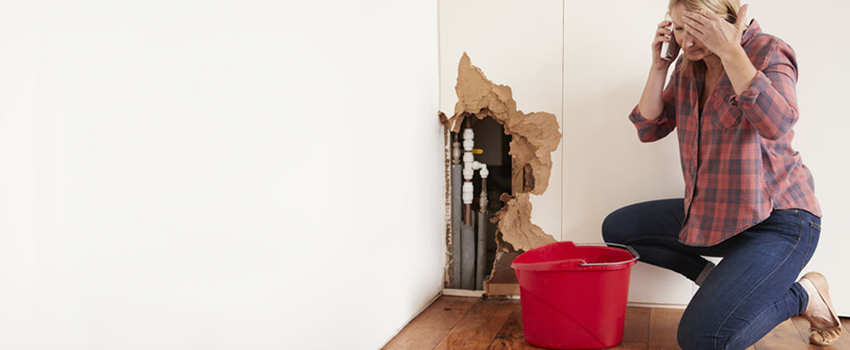 Flood Disaster Cleanup
Often, water damage is caused by a flood, which can come about in a myriad of ways: weather, plumbing incidents, storms, etc. No matter the cause, floods are particularly devastating events. They cause heaps of water damage and even the smallest flood will require a considerable amount of restorative work and cleaning. Getting cleaning and restoration done after a flood can be intimidating and stressful, but you can't just leave the water sitting. Even if you find a way to remove the sitting water by yourself, you will still need professional help removing the remaining water that might have soaked into the floors, carpets, furniture, wood, walls, and ceilings. Even in the case that the water is mostly out of sight, that doesn't mean that it's out of mind. Sitting water is a breeding ground for mold, bacteria, and other microorganisms that pose a threat of illness if you're around it for an extended period of time. The presence of water also weakens the structure of the building and causes it to decay. The longer you take to address sitting water from a flood, the worse the damage is going to be. Not only will there be initial damage from the flood, but there will be secondary damage caused by water just sitting there. When you leave water sitting there, it will continue to cause damage and wind up costing more and take longer to finish.

As soon as possible after the flood, the best thing you can do is call professional cleaners. In Davis County, Utah the best cleaning company to call is Floodsmen Disaster Cleanup. We're a local business, not a franchise, so we can provide you with a more individualized experience. Because of our central location, we're also able to offer lower price points and more variety in what we can do for you. Since we're local, we have lower overhead and fewer restrictions, which allows us to better serve our customers. We're the best cleaning and restoration company in Davis County, Utah, with accreditation from the Better Business Bureau and certification from the Institute of Inspection Cleaning and Restoration Certification, or the IICRC. The IICRC is an organization that's responsible for setting nation-wide standards of excellence in the industry for inspection, cleaning, and restoration. Years of hard work and dedication has earned us our qualifications from the IICRC. Certification from the IICRC proves that we know what we're doing and can effectively clean and restore your home after a flood.

Under the leadership of Ryan Marriott, Floodsmen Disaster Cleanup has thrived. Marriott has 23 years of experience as a licensed commercial contractor and has managed various large-scale construction projects, many of which are valued at over $3 million. His expertise in both construction and the management of construction projects makes him the perfect person to manage your flood cleanup. Marriott leads a team of highly skilled licensed residential and commercial contractors, all of whom have had at least 16 years of experience in the business. Their experience as contractors in this business gives them the necessary skills and knowledge to successfully complete your flood cleanup and restoration. It's important that the cleaners you hire are licensed and have plenty of experience before you let them take on the flood damage in your home or business. When you use Floodsmen Disaster Cleanup contractors, you won't have to worry about your home or business. We'll take care of the damage in no time, and to the highest standards. It's important to us that your home or business is safe for occupation when we're done with it. There should be no cause for concern over the quality of the job. Our contractors have one goal: to make the affected areas safe for you. With our contractors on the job, you'll get the best service from contractors that care.

Floods will affect different houses and buildings in a myriad of ways, so no two flood disasters will be the same. Our understanding of flood disasters helps us to approach every job with fresh eyes. We can't take our process from one house or building and apply it to another. We prefer to clean up every flood disaster according to a plan we formulate when we inspect the damage the first time. While our approaches to flood damage are all different, we follow a very general procedure. Stage 1 of this process consists of our initial response to your call. We'll begin an inspection of the affected areas so that we can get a more accurate idea of how severe the damage is. During this step, we will devise a plan of action, taking into account machines and equipment we'll need. When we finish our inspection, we'll show you our plan and give you several options so that you can choose the best course for your budget and timeframe. It's important to us that you have the ultimate say in every decision. We don't ever want to do anything that goes against your wishes and preferences. For this reason, you'll be consulted for each decision that arises and continuously updated throughout the project. Once we finalize our plan, we'll comence Stage 2, the cleanup process. During this phase of our process, we will remove every trace of water possible and clean up any damages the flood caused. We use the most advanced technology in water detection and removal so we're sure to eliminate as much water as possible. In Stage 3, equipment monitoring, we'll use industry-grade fans and other equipment to dry the affected areas. No matter how soaked and damaged the area was by water, we can dry it out quickly. Once we've deemed the drying process complete, we enter into Stage 4, the final cleanup. Our attention to detail comes back into play in this phase of our process. We'll complete any restorative projects we need to do before going over everything with a fine toothed comb to ensure that we've cleaned the whole area.

When you call Floodsmen Disaster Cleanup, you're sure to be satisfied with our results. You'll get the best service from contractors that are dedicated to helping you restore your home or business after devastating flood damage.



home

commercial

affordable

trusted

reviews

top

list of

best

near me

local